What is Microfracture?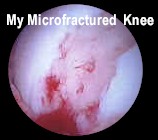 Microfracture is a surgical procedure aimed at cartilage regeneration. The arthroscopic technique involves clearing damaged tissue from the knee joint and creating tiny holes ("microfractures") in the bone area where the cartilage is defective. The underlying bone marrow seeps out through the holes and

becomes part of a blood clot that forms over the area. The marrow contains stem cells, which have the ability to form replacement cartilage between the bare-bone surfaces of the knee. Appropriate rehabilitation of the knee after surgery is critical to the success of the operation. Continuous Passive Motion (CPM), where the knee is moved gently by a machine for 5-8 hours a day for several weeks, keeping weight off of the joint for a period of 6-8 weeks, and strict adherence to an aggressive physical therapy program following surgery all appear to enhance the success of the procedure. SHOW ME THE MO-KNEE!
---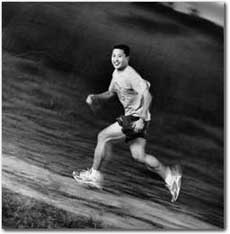 Q: "C'mon, does microfracture really work? Is there life after fibro-cartilage?"
A: 26 MILES OF CARTILAGE - From the Cliff House to the Acropolis, Willie Brown to Mama Celeste, Nike to Fiat, the Great Highway to Boylston Street, George Dubya to Charles deGaulle, Chardonnay to Chowda, Trojans to Bruins (yet ultimately back to the Cal Aggies)....um, perhaps it works too well.
Sleeve, with what I've been tauntingly informed are unusually large lips, a goofy grin, chipmunkey cheeks, and digitally enhanced calves
---
(Microfracture Woohoo!™ should appear with frames, including links to other pages at this site. If frames do not appear at the left of your screen, please click here.)
---
Microfracture has been successfully used to rehabilitate the knees of football folks like Bruce Smith, Dan Marino and Rod Woodson. Microfracture has also allowed Joe Montana to resume an active, normal life after limping away from the 49ers. In addition, weekend warriors have also had their active sports lives revived after microfracture. Check out these CBS Sportsline articles on the MICROFX-ing of Bruce Smith and Horses.
---
RACE ALERT FROM SLEEVE!

Come meet Sleeve's KNEE, live in person!! Sleeve is the race director of the ANA Cable Car Chase and the Turkey Beach Trot in San Francisco! Sleeve knows he cant run marathons forever, and has developed a new hobby--ie. race management--to satisfy his passion for running. Come run (but only if your doc allows!) and let all your friends & family know about these awesome races!


---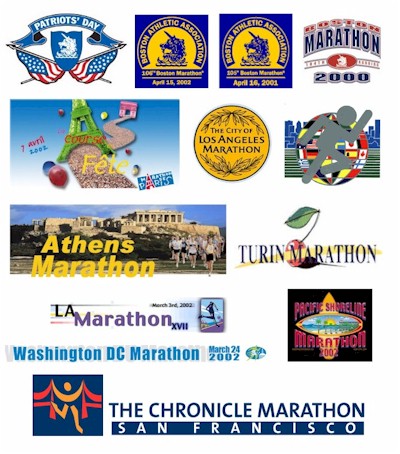 LIVE running conditions for selected marathon cities

My City by the Bay - San Francisco LIVE Cams!

(Golden Gate Cam, Transamerica Cam, Embarcadero Cam, Portrero 101 Cam)